Location:
Home
>
ExpertCommittee
>
ExpertDirectory
Nayla Comair-Obeid
From: CICC Updated: 2018-08-26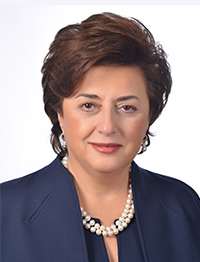 Professor Dr Nayla Comair-Obeid, founding partner of Obeid Law Firm, heads the firm's dispute resolution practice. She is professor of international commercial arbitration at the Lebanese University and formerly taught alternative dispute resolution at the Lebanese Judicial Institute. She is a past-President of the Chartered Institute of Arbitrators (CIArb) for 2017, and chaired the board of trustees of the CIArb in 2014.
Over the course of her 38-year career in litigation and international arbitration, Prof. Comair-Obeid has been, and continues to be, involved in the most significant litigation disputes in the market. Her areas of expertise range from international business law and Islamic and Middle Eastern legislation to franchising, shareholder issues, commercial representation, licensing, administrative law, banking, insurance, telecommunication, construction, complex civil litigation and corporate and financial disputes.
Prof. Comair-Obeid is often called upon as legal expert on various aspects of Lebanese law and Middle Eastern legislations in foreign courts and in arbitral proceedings. In addition, she regularly serves as counsel and arbitrator in Arabic, French and English-language arbitrations conducted both ad hoc and under a variety of International Arbitration Rules. Prof. Comair-Obeid has authored The Law of Business Contracts in the Middle East (Kluwer Law) and numerous other publications in Arabic, French and English covering a range of legal fields including international contract law, international arbitration and Islamic Finance.
During her presidency of the CIArb, Prof. Comair-Obeid has initiated three conferences on "The Synergy and Divergence between Civil Law and Common Law in International Arbitration", and developed a pioneering syllabus interweaving the principles of international dispute resolution and Islamic Finance.
Prof. Comair-Obeid has chaired and continues to chair multiple international panels. She is a member of the LCIA Court; trustee of the Cairo Regional Centre for International Arbitration; a council member of the Institute of World Business Law of the International Chamber of Commerce (ICC); and a member of the ICSID panel of arbitrators and conciliators.
Related Links:
1. The Decision on the Establishment of International Commercial Expert Committee of the Supreme People's Court
2. The Decision on Appointment of the First Group of Members for the International Commercial Expert Committee
4. The Supreme People's Court Established the International Commercial Expert Committee
*The original text is Chinese and has been translated into English for reference only. If there is any inconsistency or ambiguity between the Chinese version and the English version, the Chinese version shall prevail.