Location:
Home
>
What's New
>
NewsArticles
International Mediation Summit 2018 Held in Changsha
From: China Council for the Promotion of International Trade Guo Tao Updated: 2018-09-12
On September 12, International Mediation Summit 2018 was held in Changsha, Hunan Province. The Forum was hosted by China Council for the Promotion of International Trade (CCPIT), undertaken by Commercial Legal Services Center of CCPIT and CCPIT Hunan Sub-council, and organized by Hunan High People's Court, Hunan Lawyers Association, Bar Association of India, Dispute Resolution Section for American Bar Association, The Malaysian Bar, Thailand Arbitration Center, and Singapore International Mediation Center and other institutions. Luo Dongchuan, Vice President of the Supreme People's Court of P.R.C, Lu Pengqi, Vice Chairman of CCPIT, He Baoxiang, Vice-Governor of Hunan Provincial People's Government, Sun Zhongping, Council of Grass-roots Work Steering Department, Ministry of Justice, and Lok Vi Ming , Vice-Chairman of Singapore International Mediation Centre among others participated in the opening ceremony of the Summit and delivered speeches. Wang Gang, Director of the Department of Complaints and Coordination of Taiwan Affairs Office of the State Council, Luo Jianjun, Deputy Secretary General of Hunan Provincial People's Government, He Jian, President of CCPIT Hunan Sub-council, and Yue Qinfang, Vice President of All China Lawyers Association and others participated. Th e Summit was greatly supported by organizations such as the Supreme People's Court, Ministry of Justice, China Law Society, All China Lawyers Association, and Department of Justice of the Hong Kong Special Administrative Region and others. Cai Chenfeng, Director of Commercial Legal Services Center CCPIT served as the moderator of the Summit.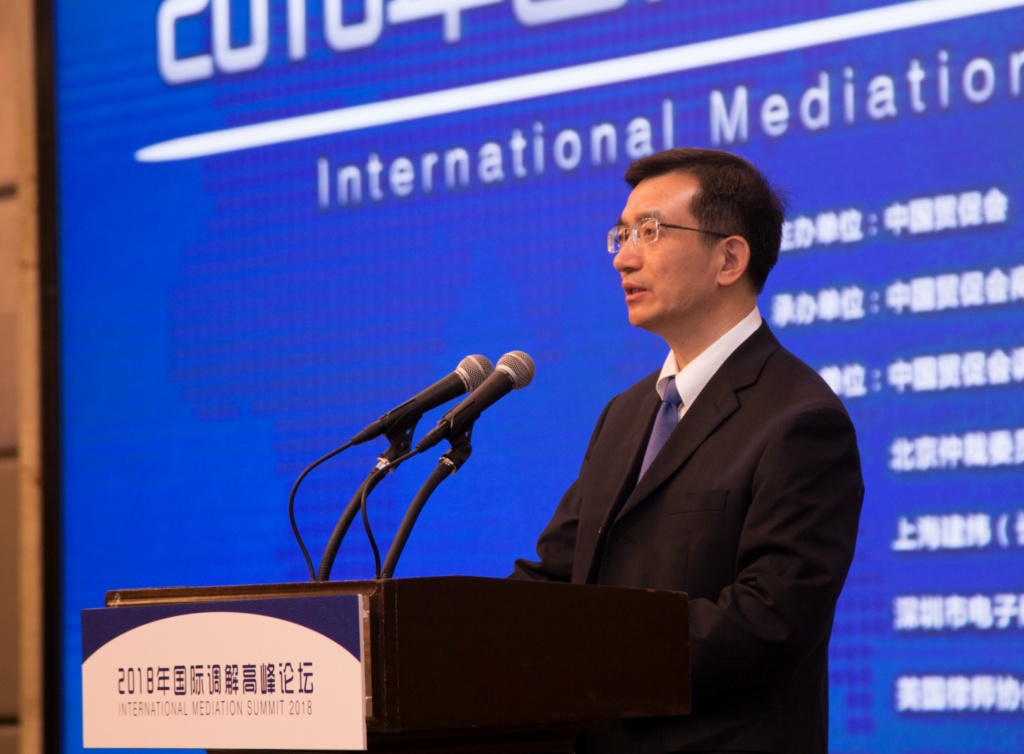 Vice President of the Supreme People's Court Luo Dongchuan pointed out in his speech that constructing a multi-level, integrated, coordinated, and positively-interactive dispute resolution mechanism is an important way to improve national governance system and to modernize national governance ability. It is an indispensable element for smoothly promoting the construction of "the Belt and Road" initiative. With further reform and opening up, and promotion of "the Belt and Road" Initiative, the Supreme People's Court is willing to work together with its counterparts, experts and organizations at home and aboard, and make common efforts to promote mediation as a role of more significance in diversified dispute resolution mechanism and international commercial dispute resolution mechanism. He raised three proposals: first, further carrying out of the concept of "planning together, building together and benefiting together" and promoting the development of mediation in an innovative manner in light of the "Belt and Road Initiative"; secondly, deepening reform and actively promoting the coordination and integration of the internal and external mediation working mechanism; thirdly, strengthening communication and promoting mediation as a reputable brand in the field of dispute resolution mechanism. He pointed out that, legal guarantee is indispensable in the construction of "the Belt and Road Initiative", and a friendly, inclusive, efficient and convenient mediation system should also be an important component, which is to play a more significant role.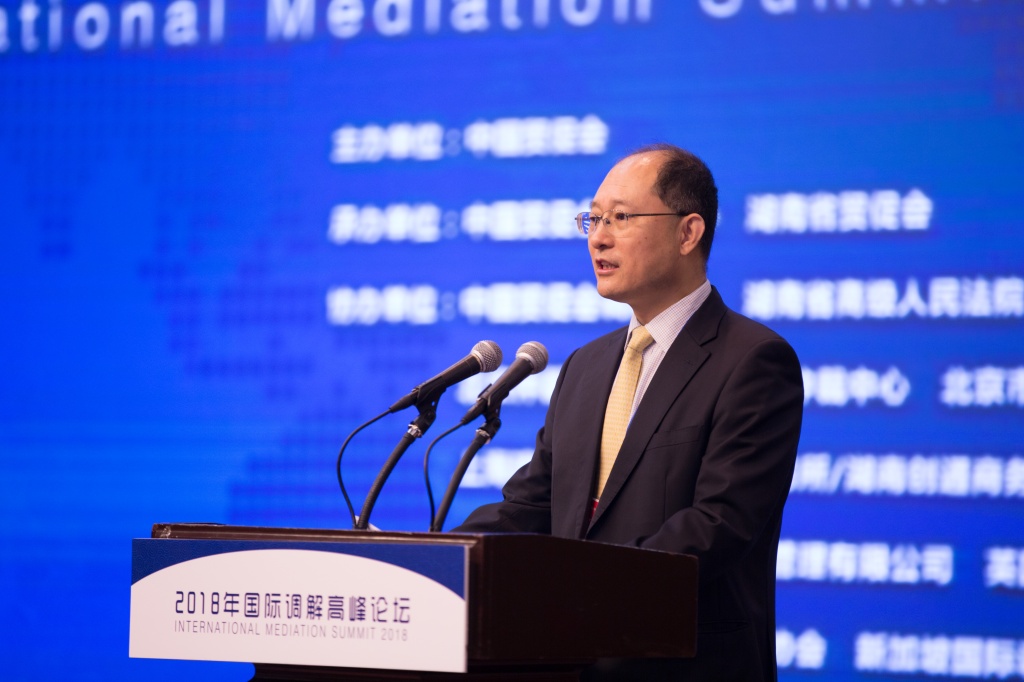 Vice Chairman t Lu Pengqi pointed out in his speech that seeking development and resolving disputes in a win-win mode has become a major trend of social development as the world is becoming as a whole nowadays. International Mediation Summit is a famous forum brand created in the mediation field, aiming at gathering people of vision in dispute prevention and resolution at home and aboard to fully utilize this international platform, strengthen cooperation, seek common grounds while reserving differences and seek common development in dispute resolution field. Commercial Legal Services Center and Mediation Center of CCPIT are important participants to promote the "Belt and Road" Initiative and meet the needs of participants in international dispute resolution mechanism for diversified dispute resolution, which provide strong and powerful support for Chinese enterprises "Going-Our". CCPIT is sincerely willing to cooperate with, mutually support to and make progress together with institutions and organizations from all walks of life in all countries and regions to positively establish a non-adversarial platform for dispute resolution, mutually promote the development of mediation industry to make a greater contribution to a better international, legal and market-oriented business environment.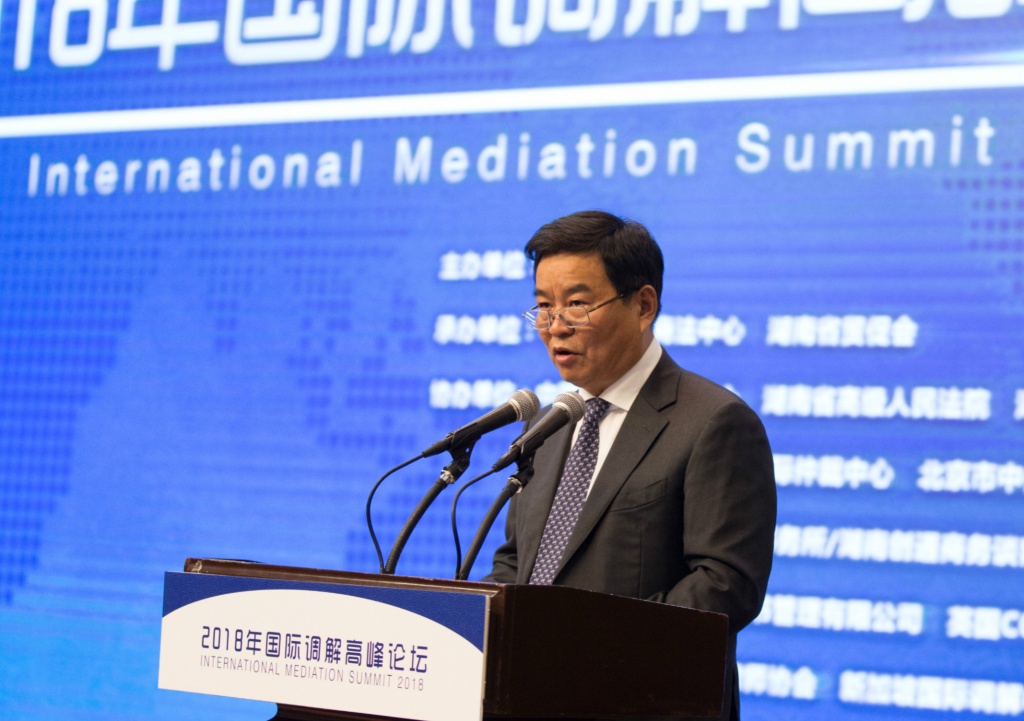 Vice-Governor He Baoxiang pointed out that resolving disputes by mediation has a long history and profound cultural foundation in China. In today's society with economic globalization and cultural diversity, value concepts such as taking peace as the best option, seeking common grounds while reserving differences and mutual benefit etc., which are the basis of mediation, are of increasing popularity. International commercial mediation is getting more and more favored by the international society given its convenience and efficiency, especially against the background that there are increasing disputes in the area of international trade, legal disputes, and various risks, and it has been playing an important role in creating harmonious and healthy international multi-bilateral environmental relations and achieving mutual benefits of all parties. Since the 18th National Congress of Chinese Communist Party, legal construction in Hunan is fully speeding up, and diversified dispute resolution mechanism is being improved day by day. At present, Hunan is comprehensively implementing "innovation-oriented and opening up-rising" strategy, and comprehensively deepening international economic and trade communication and cooperation to create an open, transparent, legal and efficient environment for government affairs.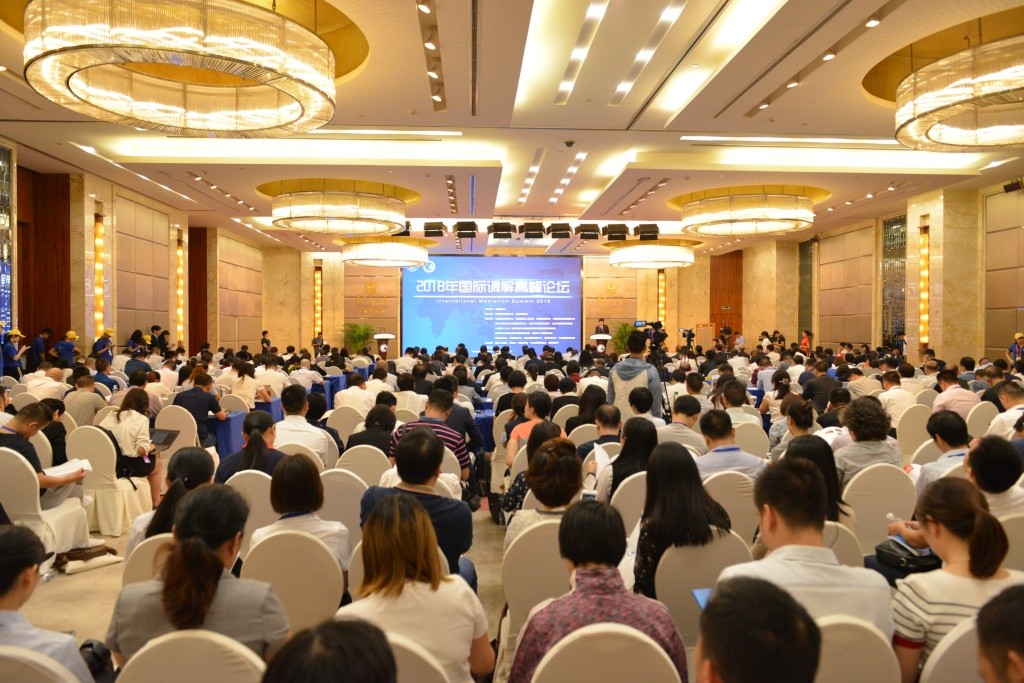 The theme of this Summit was "Research on Consultative Dispute Resolution Mechanism", and five sub-topics were given, namely "Implementing 'The Belt And Road' Initiative, Preventing And Resolving Trade And Investment Disputes" "Constructing And Innovating Diversified Dispute Resolution Methods s" "The Latest Development For United Nations Commission On International Trade Law On Recognition And Implementation For International Commercial Affair Mediation Agreement" "The Past, Present And Future Development Trend For Mediation" And "The Role Of Lawyers In The Consultative Dispute Resolution Mechanism". More than 10 countries and regions and nearly 400 professionals including lawyers, mediators, arbitrators, legal experts and in-house counsels participated in the Summit.
During the Summit, Mediation Center of CCPIT signed Memorandum of Understanding with Thailand Arbitration Center and British CCI Credit Management Organization respectively. This was an important step for Mediation Center of CCPIT to response to the central government's call, to accelerate external cooperation and to make efforts to expand international impact. At the same time, Hunan High People's Court and CCPIT Hunan Sub-council also signed Memorandum of Understanding of "Integration of Litigation and Mediation", which show that both parties would cooperate to establish long-term working mechanism for lawsuits and mediations regarding foreign-related commercial disputes. It will further strengthen diversified resolution for foreign-related commercial disputes, and provide service and guarantee for export-oriented economy of Hunan Province.
Related Links:
*The original text is Chinese and has been translated into English for reference only. If there is any inconsistency or ambiguity between the Chinese version and the English version, the Chinese version shall prevail.