Location:
Home
>
ExpertCommittee
>
ExpertDirectory
George A. Bermann
From: CICC Updated: 2018-08-26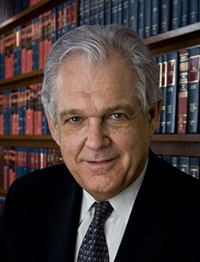 CURRENT POSITION
Professor, Columbia University School of Law, currently Jean Monnet Professor of European Union Law; Walter Gellhorn Professor of Law
Director, Columbia Law School Center for International Commercial and Investment Arbitration
Professor, Ecole de droit, Institut des Sciences Politiques (Paris)
Professor, Geneva LL.M. in International Dispute Settlement (MIDS) (Geneva) Visiting
Professor, Georgetown University Law Center (Washington DC)
INTERNATIONAL ARBITRATION PRACTICE
Arbitrator in International Commercial and Investment Arbitration; in excess of fifty cases from 1980 to date; president of tribunal and party-appointed, as well as solo, in arbitrations before all major international arbitral institutions and ad hoc Counsel or advisor to counsel in international commercial arbitrations Foreign Law and International Arbitration Law Expert Witness in international commercial arbitrations
OTHER MAJOR PROFESSIONAL ACTIVITIES
Chief Reporter, ALI Restatement of the US Law of International Commercial Arbitration
Expert on International Arbitration and Foreign Law in US courts, international arbitration and courts abroad
OFFICERSHIPS AND MEMBERSHIPS
Founding Member, Governing Board of International Court of Arbitration of the ICC Member,Standing Committee of International Court of Arbitration of the ICC
Chair, Global Board of Advisers, New York International Arbitration Center (NYIAC)
Director, American Arbitration Association (AAA)
Board member, Center for Conflict Prevention and Resolution (CPR) Fellow, Chartered Institute of Arbitrators (London)
President of Board, Center for International Investment and Commercial Arbitration (Lahore,Pakistan)
President of Board, Thai International Arbitration Center (Bangkok, Thailand) President, Académie Internationale de Droit Comparé (Paris, France) (2006-2014 President, American Society of Comparative Law (ASCL) (1998-2002)
EDITORSHIPS
Co-editor-in-chief, American Review of International Arbitration (2010 to date) Member
Board of Editors, Revue de l'Arbitrage (2008 to date)
Founder and Chair of the Board, Columbia Journal of European Law (1997 to date)
SELECTED BOOK PUBLICATIONS
UNCITRAL Guide to the New York Convention (co-authored with E. Gaillard) (2016)
International Arbitration and Private International law (General Course in Private International Law of Hague Academy of International Law, published in Recueil des cours of Academy)(2017)
Interpretation and Application of the New York Convention by National Courts (Springer Pub.2017)
Mandatory Rules in International Arbitration (2d. ed., forthcoming Juris Pub. 2018)
Transnational Litigation (West Pub. 2003. 2d ed. forthcoming 2018)
Introduction to French Law (Kluwer 2010) (co-edited with. E. Picard) French Business Law in Translation (2d ed., Juris 2011)
Cases and Materials on European Union Law (West Pub. 4th ed. 2016) (co-authored)
OTHER SELECTED PUBLICATIONS
The Role of National Courts at the Threshold of Arbitration (forthcoming in Am. Rev. Int'l Arb.)
European Union Law as a Jurisdictional and Substantive Defense to Investor/State Liability (in F. Ferrari, ed., The Impact of EU Law on International Arbitration, Juris Pub. 2017)
The Energy Charter Treaty and European Union Law, in International Arbitration in the Energy Sector (M. Scherer, ed. 2018)
Res Judicata in International Arbitration, in A. Bjorklund, F. Ferrari & S. Kroll, eds.,
Cambridge Compendium of International Commercial and Investment Arbitration (forthcoming 2018)
International Standards as a Choice of Law Option in International Arbitration (28 Am. Rev. Int'l Arb., 2017)
The Yukos Annulment: Answered and Unanswered Questions, 27 Am. Rev. Int'l Arb. 1 (2016)
Limits to Party Autonomy in Composition of the Arbitral Panel, in Limits to Party Autonomy in International Commercial Arbitration 83 (F. Ferrari, ed., Juris Pub. 2016) International
Commercial Arbitration: Present Challenges and Future Prospects: Festschrift for John Beechey (2017)
The "Gateway Problem" in International Commercial Arbitration, 37 Yale Journal of International Law 1 (2012)
Navigating EU Law and the Law of International Arbitration, 28 Arb. Int'l 397 (2012)
Arbitrability Trouble, 23 Am. Rev. Int'l Arb. 367 (2012)
EDUCATION
J.D. Yale Law School, 1971 (editor of the Yale Law Journal)
B.A.Yale College, 1967 (summa cum laude with exceptional distinction in political science)
HONORS
Doctor honoris causa, University of Fribourg, Switzerland (2004); Universitê de Versailles-St.Quentin, France (2011); Universidad Cesar Vallejo, Lima, Peru (2016) Distinguished Service Award, American Foreign Law Association (2006)
Lifetime Achievement Award, American Society of Comparative Law (2016) Tocqueville- Fulbright Distinguished Professorship (University of Paris I) (2006) Recognition as leading international arbitrator: Chambers USA (2006 to date), Who's Who Legal (2005 to date), Juris Guide to International Arbitrators (2001 to date)
Related Links:
1. The Decision on the Establishment of International Commercial Expert Committee of the Supreme People's Court
2. The Decision on Appointment of the First Group of Members for the International Commercial Expert Committee
4. The Supreme People's Court Established the International Commercial Expert Committee
*The original text is Chinese and has been translated into English for reference only. If there is any inconsistency or ambiguity between the Chinese version and the English version, the Chinese version shall prevail.