Location:
Home
>
ExpertCommittee
>
ExpertDirectory
SHEN Sibao
From: CICC Updated: 2018-08-26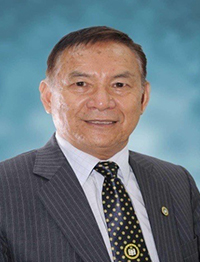 Professor SHEN Sibao graduated from law school of Peking University(LL.B)and worked for Peking University for several years after graduation and gained LL.M of that school in 1983.He studied as a visiting scholar from 1981 through 1983 in law school of Columbia University and did research work as a Fulbright Scholar from 1999 through 2000 in Columbia University as well.
Professor SHEN Sibao worked as professor doctoral supervisor and dean in Law Schools of University of International Business and Economics, Shanghai University and Macao University of science and technology and has been practicing the idea of"the essence of law is practice"for decades.During this period, Prof. SHEN together with Prof.Feng Datong, focused on"training the talents good at English, law and foreign trade for domestic and foreign markets"and"the training road for international talents"and their contributions gained recognition in law circle, therefore Prof. SHEN was awarded by the Ministry of Education as the"Teachers at the national level"and enjoys the government allowance of the State Council.
Prof. SHEN is now the director of the Institute of International Commercial Law in UIBE, a member of the Commission of Philosophy and Science Subject to Ministry of Education, a member of the academic committee of the Chinese Law Society, the chairman of China International Economic and Trade Law Association.
He is now still appointed as the Chairman of the Shenzhen Court of International Arbitration, Chairman of ADR and arbitration Commission of ICC China and Chairman of Trade Commission of GAFTA(London)China.In the past several decades, Prof. SHEN has participated in dozens of domestic or foreign arbitration commissions as arbitrators in thousands of arbitration cases and has accumulated rich experience and formed his own style of working. Prof. SHEN was appointed as the Vice-Chairman of China International Economic&Trade Arbitration Commission (CIETAC) during the period from 1996 through 2004 and as a conciliator for International Center for Settlement of Investment Disputes (ICSID) for two terms.His main academic publications are "The Essence of Law is Practice"and"International Commercial Law".
Related Links:
1. The Decision on the Establishment of International Commercial Expert Committee of the Supreme People's Court
2. The Decision on Appointment of the First Group of Members for the International Commercial Expert Committee
4. The Supreme People's Court Established the International Commercial Expert Committee
*The original text is Chinese and has been translated into English for reference only. If there is any inconsistency or ambiguity between the Chinese version and the English version, the Chinese version shall prevail.