Location:
Home
>
What's New
>
NewsArticles
Zhou Qiang meets with Rubén Remigio Ferrodu, President of the People's Supreme Court of Cuba
From: Head News Media Agency of People's Court Sun Hang Updated: 2019-09-02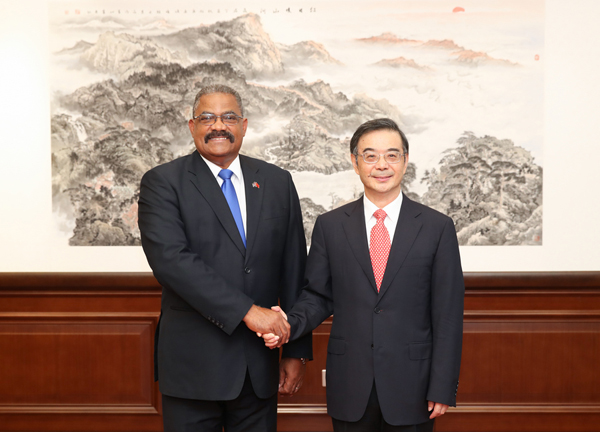 Zhou Qiang met with Rubén Remigio Ferrodu, President of the People's Supreme Court of Cuba. Photo by Sun Ruofeng.
Zhou Qiang, Chief Justice and President of the Supreme People's Court (the SPC), met with Rubén Remigio Ferrodu, President of the People's Supreme Court of Cuba, at the SPC in the afternoon of September 2.
Zhou Qiang welcomed Remigio, saying that the friendship between China and Cuba is profound and the exchanges and cooperation in the judicial area between the two countries have maintained a good development. It is believed that President Remigio's visit to China will deepen the exchanges and cooperation between the supreme people's courts of both countries and write a new chapter in the judicial relationship between two countries.
Zhou Qiang briefed to Remigio the latest progress of China's judicial reform. He said that Chinese courts earnestly implement Xi Jinping's Thought on Socialism with Chinese Characteristics for a New Era, deepen the reform of the judicial system with comprehensive integrated reforms, accelerate the building of smart courts, and enhance the development of the one-stop diversified dispute resolution mechanism and the one-stop litigation service center. The First and Second International Commercial Court of the SPC, the intellectual property courts, the internet courts in Beijing, Hangzhou and Guangzhou, and Shanghai Financial Court have been established to guarantee the high-quality services, modernize the judicial system and competence, further improve the quality of trials, and constantly enhance people's "senses of gain".
Zhou Qiang said that he hoped the two sides would strengthen communication and exchanges of experience on the judicial reform and the building of smart courts, promoting new progress of the judicial work of the two countries.
Remigio appreciated for the meeting and applauded China's achievements in advancing judicial reform and the information construction of Chinese courts, saying that it was valuable reference. He expected more communication and judicial cooperation between the two countries to contribute to the friendship.
He Xiaorong, Full-time Member of the Judicial Committee of the SPC and Justice of the Second Rank attended the meeting and communicated with Remigio on the administrative trial.
Related Links:
*The original text is Chinese and has been translated into English for reference only. If there is any inconsistency or ambiguity between the Chinese version and the English version, the Chinese version shall prevail.