Location:
Home
>
ExpertCommittee
>
ExpertDirectory
David Unterhalter
From: CICC Updated: 2018-08-26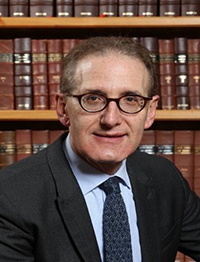 Mr.Justice David Unterhalter practiced at the Johannesburg Bar from 1990 to 2017. He is specialised in Competition Law (and other Regulatory Law), Trade Law, Commercial and Constitutional Law. Silk was conferred upon him in 2002. In 2009, he was called to the Bar in London and was a tenant at Monckton Chambers. In addition to his practice at the Bar, David Unterhalter is a Professor of Law in the Faculty of Law at the University of the Cape Town teaching Competition Law and the Law of International Trade. He served on a number of World Trade Organisation panels, as well as being a member of the WTO Appellate Body and its Chairman. David Unterhalter appeared in Courts and Tribunals throughout Southern Africa, and has done international arbitration work. He has published widely in the fields of Public Law, Trade, Evidence and Competition Law. He is a co-author of Competition Law (an account of South African Competition Law). In 2018 he was appointed to the High Court as a Judge.
Related Links:
1. The Decision on the Establishment of International Commercial Expert Committee of the Supreme People's Court
2. The Decision on Appointment of the First Group of Members for the International Commercial Expert Committee
4. The Supreme People's Court Established the International Commercial Expert Committee
*The original text is Chinese and has been translated into English for reference only. If there is any inconsistency or ambiguity between the Chinese version and the English version, the Chinese version shall prevail.